I started playing in public back in 1969, and for money in 1972 in the folk clubs of Yorkshire.
From then on I worked around the clubs in various bits of the country - mostly around Yorkshire and then Lincolnshire, with a small excursion back to my original home county of Sussex somewhere in the middle. Oh, and I seem to remember living in Cardiff for a short while. And there was a field in Wrexham…
Then around 1978 I moved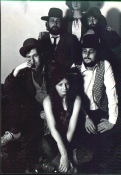 to the Wirral and carried on annoying audiences all over Merseyside for twenty odd years, during which time I diversified somewhat from being a solo performer, joining various bands ranging from country to zydeco.
At the same time, I ran a couple of ceilidh or barn dance bands - starting with the Fiddle Band (which did what it said on the tin and then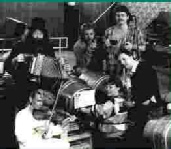 imploded gloriously in a cloud of confusion) and then the Titanic Disaster Band of glorious memory (it went down well, by the way...).
After that, I played fiddle with Sack the Fiddler cajun band for a short while - a dodgy job for a fiddle player with a band called that, and then accordion and vocals with the great Swamp Fever -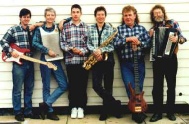 a stonking mix of musicians from folk, R&B and rock origins all belting out zydeco in great style. First time I ever saw an entire folk club audience shove the chairs to one side and start dancing spontaneously!
For ten years, until March 2020, I played fiddle, accor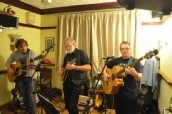 dion, flute, sax, mandolin and guitar wih a fair bit of singing thrown in with the Irish band Kiss the Blarney, which was terrific fun. I still call the odd ceilidh (very odd, so they tell me), and play around the local folk clubs, but they're not what they were.
If anyone out there needs a fiddler who plays a bit of melodeon, whistle, sax, guitar, mandolin and a few other bits and pieces, do get in touch… not accordions, though. I'm done with them!
And now, as I write this in 2022, I'm mostly playing in brass bands. Either trombone, euphonium or cornet, depending on whatever is required. With a quartet, Accidental Brass, playing for fun and the audience's amusement in care homes, churches or anywhere else they can fit us in, to the full band at Tarporley Silver, music is still echoing round the place.