Well now. I started life somewhere around the middle of the last century down in the wilds of Surrey, and then my family shifted first to Chichester in Sussex, where I started playing piano at the age of six, and then to sunny Worthing on the South coast.
Worthing, of course, had two claims to fame at that time. One was its rotting seaweed and, luckily for me in the late sixties and early seventies, the other was the biggest and best collection of hippies in the country, centred on the Worthing Workshop.
This bunch of happy weirdos saved my sanity in 1970 when I was forced to escape from Yorkshire in a hurry and a Volkswagon Beetle. They gave me a philosophy that, I am proud to say, will last me till I drop dead. It also gave me the place where I first played a song in public..
And after that it was back to York for a while and a succession of fiddles, accordions, wives, saxophones and trombones in various towns and cities taking in Yorkshire, Lincolnshire, South Wales, the Wirral and finally Cheshire. Mostly, all I've ever really done is play music.
I did mana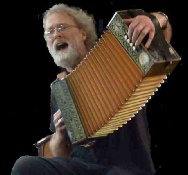 ge to waste some time working for the Post Office and the Civil Service, but that was just a hobby, really. Music was the important thing.
I played solo as a singer songwriter for many years, then, having more or less settled in various bits of Merseyside, called the dances and ran a couple of ceilidh bands for as long again, mucked about with country music, cajun and zydeco and played fiddle in two or three Liverpool Irish bands.
I bought a narrowboat some time around 1985 and it's only sunk twice since, which is pretty good going for a tub that's probably as old as I am.
Be all that as it may, here I am in Macclesfield, playing solo guitar again round the folk clubs, euphonium with the Tarporley Brass Band and the more local Over Alderley Brass Band, and trombone with the Accidental Brass Quartet for without music, what is there? The rest, as someone or other said a few centuries back, is silence.
And as someone else said, all in all, it's been jolly good.