I started off playing piano as a kid, which I hated, so I'm still ru

bbish at keyboards. But I did finally manage to force myself to play the accordion, winding up with a Roland FR1 as it was the lightest of them all, and my back no longer copes with the weight of the giant thing I used to wield in the Zydeco band Swamp Fever.
But I have now laid that aside forever with a sigh of relief, and

shall limit my free reed stuff to an old Hohner melodeon, which I thoroughly enjoy playing, and a rather fine Lachenal Concertina.
I play a late seventies Manson Hummingbird guitar and a Kinkade Kingsdown from 1984, both acoustic, though the latter has a very nice sounding pickup in it.
I've an old Suzuki mandolin and a rather fetching green Ozark electro-acoustic that I use one stage. Then there's the Trevor James flute and a couple of tin whistles of reasonable intuneness. The didgeridoo r
emains unplayed.
Of course, the most important beasts are the fiddles. There's my old family fiddle with the beast's head, which looks great but sounds rubbish, the one that comes narrowboating with me which has been repaired a few times but still sounds pretty good, the Bridge electric that I use on stage and, best of all the one made for me by John Oxley, then of West Kirby on the Wirral, a genuine genius of instrument making and a beautiful instrument which transcends my ability to play, and which makes me sound a lot better player than I probably am!

After that, there's an alto sax and a C melody made by Aquilasax in New Zealand - much easier to play folk music without having to transpose in your head all the time. There's an old Korg synth in the corner of the room and a Yamaha Portable Grand piano lurking against the wall, near the Ibanez Musician electric guitar that I never play any more, and my wife's Aria bass.
Anything else?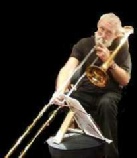 Just a cornet waiting to be blown through when I get round to it, the odd harmonica, and a remarkable quantity of trombones. They get a page of their own, as will the fiddles when I get round to it.
I don't think I play anything else, though I may have forgotten something along the way. I can get a tune out of most things…