As you can t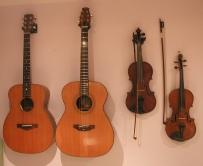 ell from the rest of this site, I've spent most of my life playing music of one sort or another. My very first ever public performance was singing Leonard Cohen's song Bird on a Wire at the hippy workshop down in Worthing on the south coast... and then when I went t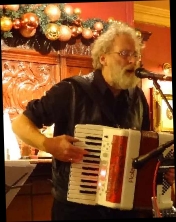 o college in York I discovered folk clubs and the world was never quite the same again.
I was taught to play guitar by a couple of blues players in York, and discovered there was an audience out there for the stuff I wrote, and have now been writing songs and singing them for as long as I can remember, and as I am now approaching the age of seventy (depending on when you read this, from one direction or another), that means that I did my first stage gig over fifty years ago. Most of the rest of the story of my musical life, and the bands that have had to put up with me, is stuffed away on another corner of the site...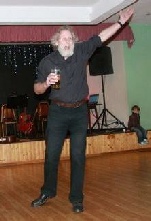 I write a lot of stuff people find funny - at least they seem to laugh in the right places, and also, as I like to hear people singing, a lot of chorus songs. Folk music to me is a participation sport although there seems to be less heckling than there used to be. But there again, I'm deafer than I used to be so maybe I just can't hear it any more.
I've recorded several CDs, which are listed on the "recordings" pages, and some of my favourite songs are there too if you want to listen. If you want to buy the CD, just email me and I'll dig one ouot of the cupboard. I'd appreciate you dropping me a line if you want to play anything of mine in public - it's always nice to hear if someone likes a song enough to want to play it themselves. Otherwise, just have a listen and enjoy.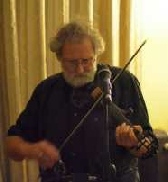 Apart from the singing and the guitar playing, I bought my first fiddle around 1967 and finally got Jon Oxley to build me one in West Kirby about fifteen years back. It's my favourite instrument and I expect it will be till I drop dead on stage somewhere. On stage, however, I play a "Bridge" electric fiddle, which is the nearest thing I've found which makes an acoustic sound through a stack of electronics!
I picked up the sax about twenty years back and, after playing an alto for a while, finally bought an Aquilasax C melody version from a guy in New Zealand about ten years ago - it plays in proper keys, so you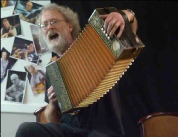 don't have to think too much, which is always a good thing for a musician. And it sounds stunning.
I got into accordions via the melodeon when I started calling dances - you can't shout at people and play the fiddle -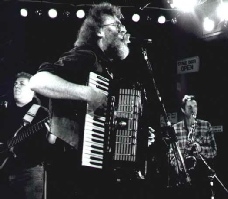 and while it has never been my favourite instrument it's been a pleasant enough companion over the years. I ran a couple of ceilidh bands over on the Wirral for over twenty years - first the Fiddle Band and then the greatly lamented Titanic Disaster Band. Piano accordions appeared on the list when I began playing Zydeco music, mostly with the stonking and hard rocking Swamp Fever and the short-lived Bete Noir.
For a long while I played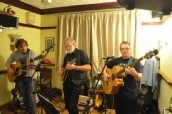 in the Irish pub band kiss the blarney, leaving in 2019 after a final St Patrick's Day concert. We made three CDs, and had a whale of a time! After that…
I picked up the trombone and euphonium when I decided it was time to learn something completely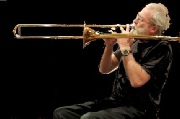 different - I'd never played brass at all before, and it's a cracking feeling being part of a band. Everywhere else I played I was right at the front, either soloing, singing or calling dances, and it's a completely different and very satisfying thing to be just a small cog in a large wheel. I now run a quartet, Accidental Brass, and play with the Tarporley Silver Band.
Ultimately, it's my mother's fault. She was a piano teacher and both my sister and I learnt to read music and whack the keys at a very early age. I'm still a lousy piano player, but the understanding of chord structures and the love of making a cheerful noise has stuck. I think she'd be pleased enough if she is anywhere with a view down here.
All in all, as Peter Tinniswood said in my favourite ever radio play, it's been jolly good.