The Band in its lifetime made three CDs, the first featured the original line-up of John, Arthur and Ralph on banjo and guitar, while Robbie joined the band after Ralph left for the second and third CDs on guitar, banjo and mandolin, with a little pedal steel thrown in for good measure.
The track listings are as below. If anyone wants a copy, I can probably dig one out for a tenner and the postage!
CD1 kiss the blarney
Sober Men & Plenty
Fields of Athenry
Bald eagle
Come By the Hills
Carrickfergus
RedHaired Boy (reels)
Murphy's Bar
Streets of New York
Star of the County Down
Kissing the Blarney
CD2 state of the heart
State of the heart
Black & tans
Bless me father
Off to California
Dingles regatta
Mountains of Mourne
All the way from Donegal
Humors
Mrs McGarrity's dance
Drink boys drink
Whisky before breakfast
Belfast moon
Danny boy
Tell me ma
CD3 rare times
Ah come on
Rare Auld Times
St Patrick & the Snakes
Waiting for the federals
Raggle Taggle
Murphy's Bar
Connemara
Brilliancy
Ride On
Day of my return
Streets of New York
Whisky Beer Brandy & Gin
No Man's Land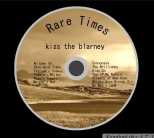 I wrote the Blarney songs State of the Heart, All the Way from Donegal, Drink Boys Drink, Streets of New York, Murphy's Bar, Connemara, Belfast Moon, Whisky Beer etc, St Patrick & the Snakes, Bless Me Father, Dingles Regatta.
And possibly one or two more that currently slip my mind. They are all copyright - you're welcome to sing any of them, but it would be nice if you'd let me know!